Belinda Dickie |

Medical Services
Programs & Services
Belinda Dickie |

Education

Medical School

University of Toronto

1998, Toronto, Ontario, Canada

Residency

General Surgery

University of Alberta

Edmonton, Alberta, Canada

Fellowship

Advanced Minimally Invasive Surgery

University of Alberta

Edmonton, Alberta, Canada

Fellowship

Vascular Anomalies

Cincinnati Children's Hospital

Cincinnati, OH

Fellowship

Pediatric Colorectal Surgery

Cincinnati Children's Hospital

Cincinnati, OH

Fellowship

University of Florida

Gainesville, FL
Belinda Dickie |

Professional History

Belinda Hsi Dickie, MD, PhD obtained her medical degree at the University of Toronto, and completed general surgery residency and an advanced minimally invasive surgery fellowship at the University of Alberta. She continued her training, completing fellowships in pediatric vascular malformations and pediatric colorectal surgery at Cincinnati Children's Hospital Medical Center and in pediatric surgery at the University of Florida. She returned to Cincinnati Children's in 2011.

 

Dr. Dickie has a special interest in the medical and surgical treatment of vascular malformations, and minimally invasive surgery. She had a lab in vascular biology which looked at the genetics and molecular pathways involved with lymphangiogenesis, and the genetics involved in the development of vascular malformations. The lab was looking at novel mutations in vascular malformations and the potential effects on lymphatic growth and different treatment alternatives.
Belinda Dickie |

Media

Caregiver Profile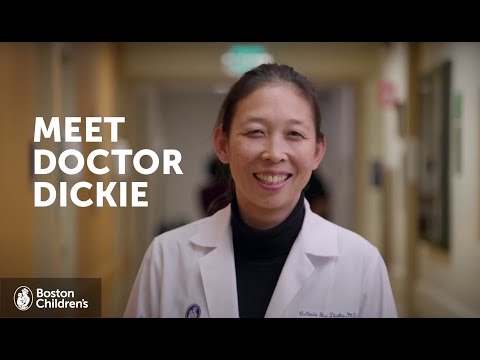 Meet Dr. Belinda Dickie
Belinda Dickie |

Publications